Whitley Place Real Estate Market Update: November 2023
Posted by Brent Wells on Tuesday, November 14, 2023 at 9:49:14 AM
By Brent Wells / November 14, 2023
Comment
The real estate market in Whitley Place continues to be strong for homeowners. As we navigate these dynamic times, understanding the current value of your home becomes pivotal. As residents of Whitley Place know, we completed the new construction phase of the neighborhood a few years ago and moved into a role of an established luxury Prosper neighborhood.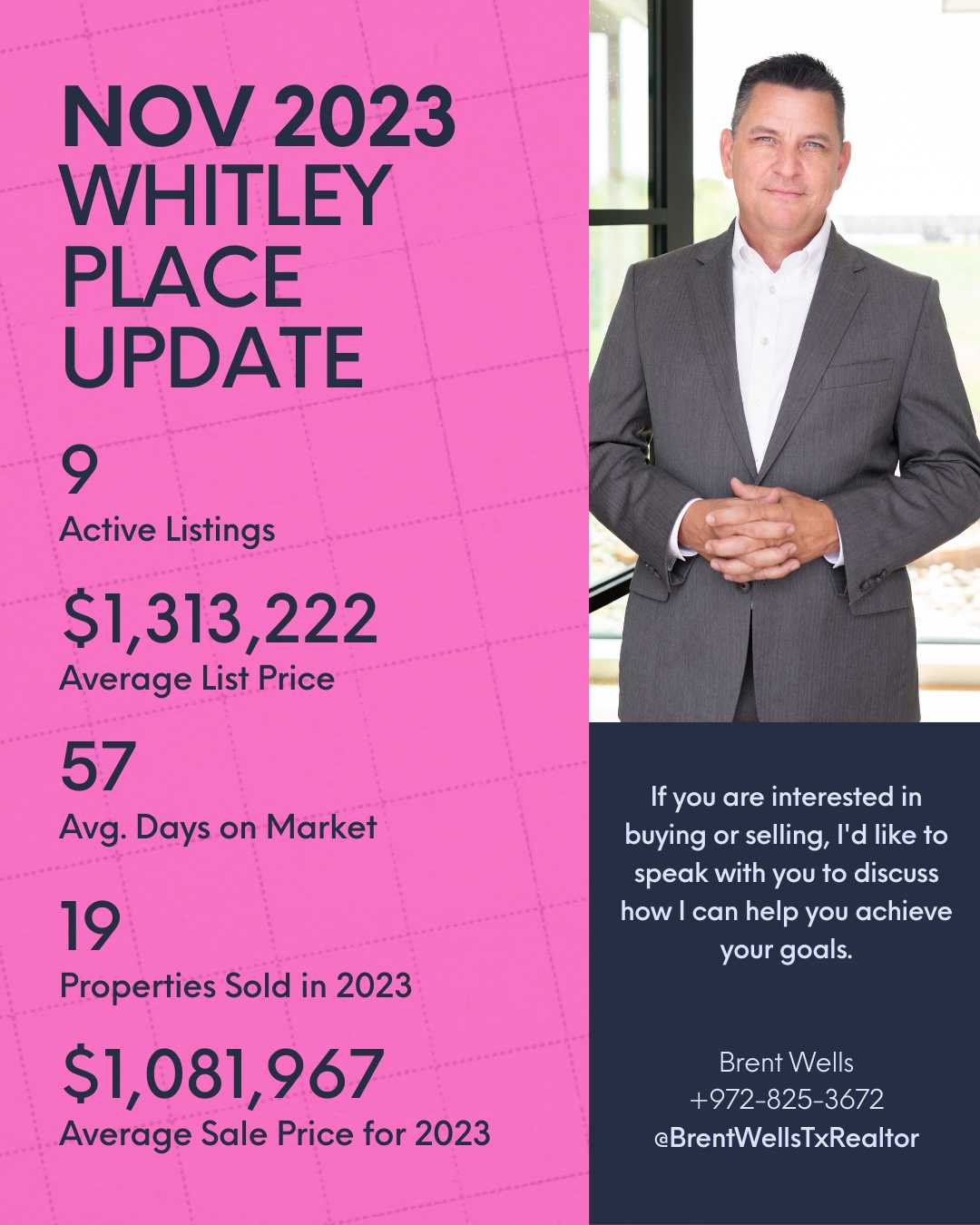 Whitley Place's Resilience in the Real Estate Market
Nestled within Collin County, Texas, Whitley Place boasts a unique blend of luxury living and serene landscapes. Its well-planned layout, top-tier amenities, and proximity to excellent schools make it a sought-after location for families and discerning buyers. These traits continue to increase the sales prices of our homes and keep demand fairly strong.
Current Market Overview
Active Listings: 9
Average List Price: $1,313,222
Average Days on Market: 57
Homes SOLD in 2023: 19
Average Sales Price for 2023: $1,081,967
Factors Influencing Home Values
Several factors impact property values in Whitley Place:
Location: The neighborhood's strategic location, offering convenience without compromising tranquility, remains a key selling point.
Home Features: Attributes such as spacious layouts, modern amenities, and thoughtful designs often contribute to increased property worth.
Market Trends: Keeping an eye on current trends and recent sales data helps gauge the potential value of your home.
Understanding Your Home's Value
Comparative Market Analysis (CMA): Requesting a CMA from trusted real estate professionals provides valuable insights into recent sales and current listing prices for properties similar to yours in Whitley Place.
Online Valuation Tools: Utilize reputable online tools to get an initial estimate of your home's value. However, bear in mind that these tools may not consider specific nuances that impact your property's worth.
Consulting a Real Estate Expert
For a comprehensive understanding of your home's value and personalized advice tailored to your property's unique characteristics, consulting a local real estate expert familiar with Whitley Place is advisable. These professionals can analyze intricate details and provide precise valuations based on current market conditions and neighborhood-specific data.
Stay Updated
The real estate market is fluid, influenced by various economic and social factors. Regularly staying informed about market trends, recent sales, and neighborhood developments empowers homeowners with the knowledge needed to make informed decisions about their properties.
Whitley Place remains an enclave of esteemed residences, cherished for its luxurious lifestyle and community atmosphere. Understanding the value of your home is a proactive step toward leveraging the current real estate market.
For personalized insights into your home's value or to explore market trends further, our team at LivingWell Realty is here to assist you. Contact us today for a comprehensive assessment of your property's worth in Whitley Place.