Best Neighborhoods In Prosper Tx
Posted by Brent Wells on Sunday, June 25, 2017 at 4:58 PM
By Brent Wells / June 25, 2017
Comment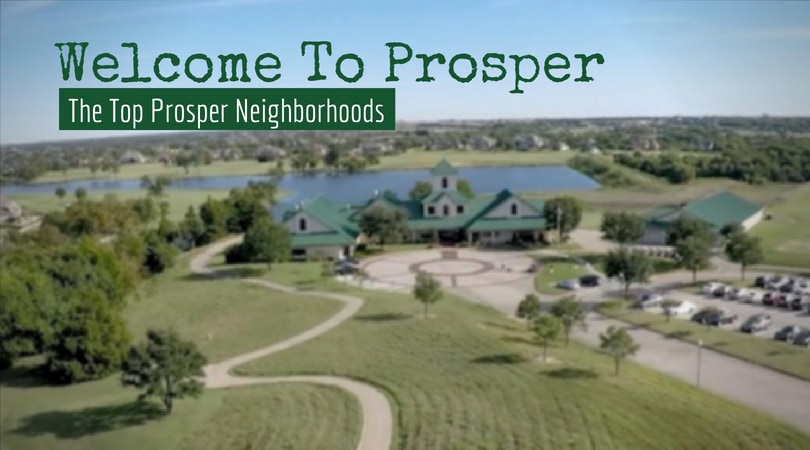 Prosper Texas was official established in 1914 and consists of roughly 23 square miles and 22,000 residents and about 8,000 homes. This beautiful north Texas town sits in both Denton and Collin counties and has amazing homes on acerage lots and the highly reguarded schools of Prosper ISD.
UPDATED: 10/10/2021
The Best Prosper Neighborhoods List Is:
Christie Farms
Gentle Creek
Highland Meadows
Lakes of La Cima
Star Trail
Windsong Ranch
Whitley Place
The neighborhoods on our list of best of Prosper neighborhoods are in no particular order. Have fun reading this article and we'd love to hear your opinion at the end of the article in the comments section...
---
Christie Farms
Christie Farms is located by heading north on Custer road from Hwy 380. Head north for about two miles and you will see the gated entrance just past Rhea Mills Estates on the left.
You can find homes starting in the mid $800s, but not many of them. Most of the homes being built in Christie Farms are above one million. They are all true custom homes and I am happy to say Dave R. Williams is building here. Deb and I love Dave's homes and I am sure you will too.
Most of the homes are on a minimum of one acre and most of the homes are over 4,500 square feet in size. Many homes are much larger.
Gentle Creek
The homes are stunning, the lots are large and beautiful, the neighborhood is quiet and peaceful and everything is located in the middle of Prosper. What a combination! You will find homes that range from $300k to one million and above. There truly is a home for every price range. Be sure to visit our page about Gentle Creek for more photos and videos.
Highland Meadows
Highland Meadows is a well kept secret of Prosper real estate. Highland Meadows in Prosper Texas consists of luxury homes in the 4,000+ square footage and are priced from the high $600's. Many homes in this beautiful neighborhood were built by the late Dave Williams.
Lakes of La Cima
Lakes of LaCima is conveniently located near US 360 and the Dallas North Tollway. LaCima boasts three small lakes in this beautiful master-planned community. Residents of LaCima enjoy an active lifestyle with parks, playgrounds, a splash pool, and a swim park. The Prosper Independent School District educates the community's children at Folsom Elementary School (within easy walking distance), Rogers Middle School, and Prosper High School.
Star Trail
Star Trail is a 900-acre community located in Prosper Texas. Home prices start in the mid-$300s and will exceed 1 million. At a cost of more than $700 million to develop, Star Trail is a stunning neighborhood. With an amazing set of amenities, some of the best builders around and highly acclaimed Prosper ISD schools, Star Trail may be the perfect place to call home!
Amenities will include three pools, a splash pad for the kids, and an outdoor common area with a fireplace and patio grove. Residents will enjoy playgrounds, tennis courts and hike-and-bike trails. Nearby conveniences include the brand-new Prosper Shopping Center, the Shops at Legacy and the Cowboys' new world headquarters, The Star in Frisco.
Windsong Ranch
Windsong Ranch is located just 2.5 miles west of the Dallas North Tollway on S.H. 380 in Prosper TX. The children of Windsong Ranch will attend the Prosper ISD. They will attend Rucker Elementary, Rogers Middle School, Reynolds Middle School, Reynolds Middle School and Prosper High School. Great Schools gives a rating of 10/10 to Rucker Elementary School is too new for a rating. Rogers Middle School received a 10/10 as well. Prosper High School finishes out the list with a 7/10 on the overall score. They have 10/10 on everything but student progress.
Miles of connected sidewalks and 8 foot wide concrete hiking and biking trails create walkability throughout Windsong Ranch from neighborhoods to parks, amenities and school site-seven the new Windsong Ranch Elementary! The central park-styled linear park that serves as a major gathering space for community events and activities as well as just walking your dog, having an impromptu picnic or taking a morning jog. Hundreds of acres of beautiful green palette all around Windsong provide you with wide open fields for soccer, flag football, or just flying a kite.
There's a simple pleasure in having plenty of room to get out and have fun. Meandering creeks, mature oaks, ponds and passive park areas in and around neighborhoods let residents enjoy the natural beauty of the stunning piece of earth that upon which Windsong Ranch was created.
Whitley Place
Whitley Place is located one mile north of Hwy 380 on Custer in beautiful Prosper Texas. Homes in Whitley Place are assigned to the Prosper ISD and, the children of Whitley Place will attend Cockrell Elementary, Rogers Middle School, and Prosper High School. Great Schools gives a rating of 10/10 to Cockrell Elementary School. Rogers Middle School received a 10/10 as well. Prosper High School finishes out the list with a 7/10 on the overall score. They have 10/10 on everything but student progress. I really am at a loss on what that even means but we have reached out to clarify this. Stay tuned. Whitley Place is one of the neighborhoods with a very broad price range. Homes are available starting at $550,000 to well over $1,000,000.
Whitley Place is centered around beautiful Wilson Creek, which runs through the community providing a natural setting for the community. The two community pools and open air amenity center is a popular destination for residents. Its rustic wood and stone design offer a feel of permanence and familiarity. The lake pavilion offers a quiet time on the banks of the creeks and lakes in this charming community is the perfect sanctuary to daily stresses. The open air pavilion on the lake will become another popular spot for entertaining. The walking trails are pristine and lush and wind throughout the community and are very tranquil. Whitley Place definitely makes our list as one of the Best Neighborhoods in Prosper!
---