Weighing The Pros and Cons of Living in Prosper Texas
Posted by Brent Wells on Friday, December 30, 2022 at 12:15:25 PM
By Brent Wells / December 30, 2022
Comment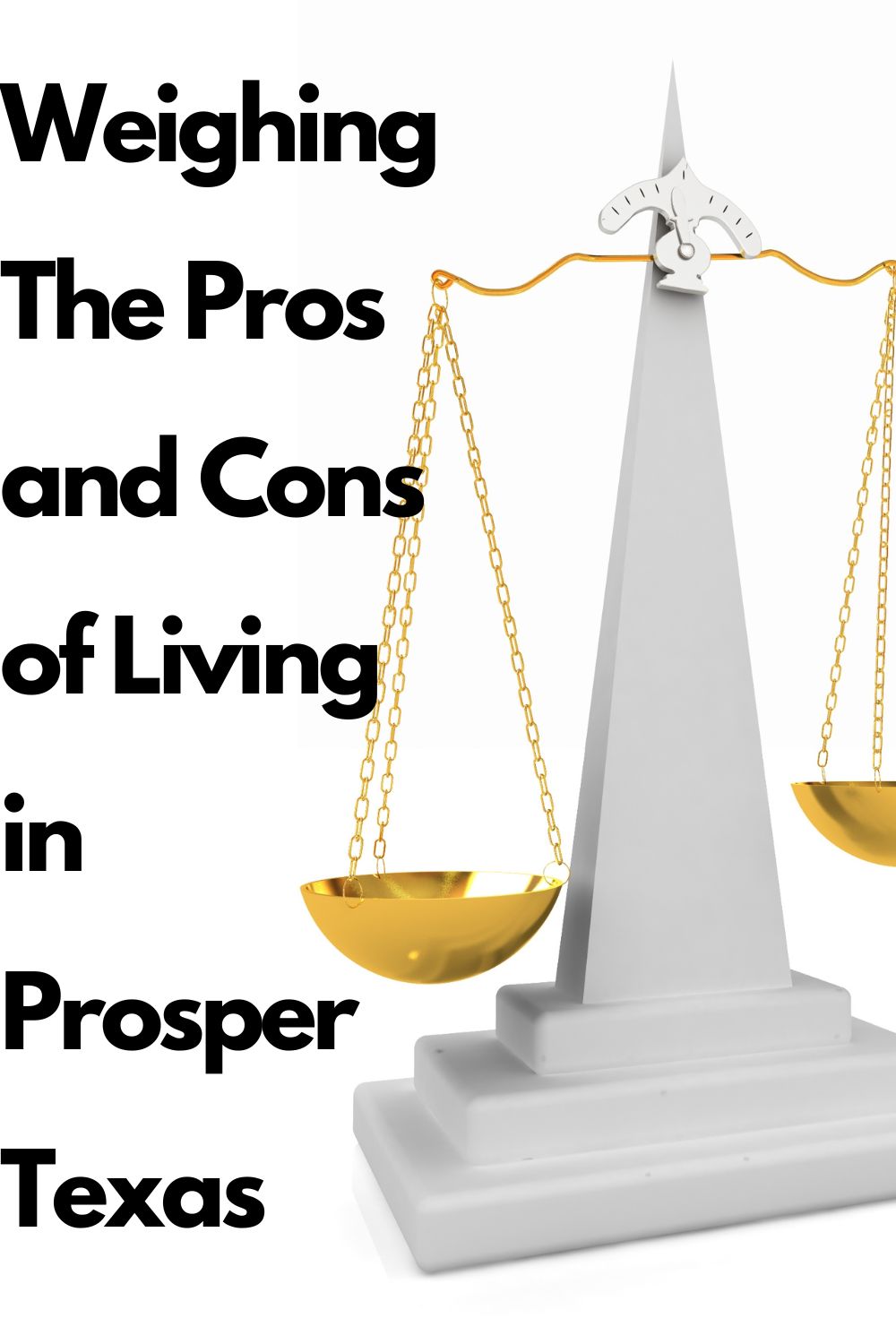 The town of Prosper Texas has grown in popularity and desirability over the last few years. If you are already in the Dallas area and looking for a quieter area to settle in or are relocating to Dallas/Ft. Worth you may be wondering about a move to Prosper and if it is right for you since so many people are choosing Prosper.
Before making the commitment to purchasing a home in any location you do not already know about, it is best to weigh all of the great reasons to move and to take an honest look at anything that might not be so great.
Weighing the Pros and Cons of Moving to Prosper Texas
The Cons
We thought we would start out with the few not-so-great parts of living in Prosper and end with the many benefits.
Low Housing Inventory
Though there are more and more housing communities being built in and around Prosper as more businesses and the desirability to live here grow. The home inventory like many other desirable locations is fairly low currently. But with the right experienced local agent on your side, you can find an amazing Prosper home.
Periods of Heavy Traffic
With area growth, comes more use of streets. The traffic on Highway 380 can get heavy at certain times of the day. But when you know what to expect you can plan around getting stuck in the crazy traffic at peak travel times.
Homes May Cost a Bit More
Being that Prosper is a highly desirable area to live in and there is plenty of business and residential growth to match it, the home prices are slightly higher as compared to areas that are not as popular. Of course, this does mean that purchasing a property in Prosper is a good investment when it comes to growing wealth with equity in your purchase.
The Pros of Living in Prosper
Okay now that we have brought up an honest well-rounded look at the few downsides to Prosper let's look at the many benefits that outweigh any of the drawbacks.
No State Income Tax
Okay so this isn't a perk only found in Prosper but it is nice. Texas does not have a state income tax. This allows Prosper residents to keep more of their hard-earned income in their own pockets.
Development and Growth
This can be a drawback if you ask some residents as they may prefer for the town of Prosper to remain as quiet as possible. But with the right balance of growth and development, it can be beneficial. Many businesses are seeing that Prosper is a desirable place to be so this is creating more job opportunities right inside the town. Meaning fewer people will have to commute out to Dallas and Ft. Worth for work (which is not a horribly long drive in itself).
The Schools
Prosper has one of the best public school systems in the state of Texas. This may be one of the biggest driving factors for several families moving into the Prosper area. The public school system is top-ranked and many people are searching for homes within the Prosper school boundaries.
Master Planned Residential Communities
Real estate in Prosper is highly desirable for a reason. There are many safe and well-thought-out neighborhoods within Prosper. Several communities offer amazing amenities including sports courts, swimming pools, dog parks, hiking/biking/horse riding trails, social events, and fitness classes, and one community comes with its own private beach.
For more information on finding homes for sale in Prosper please contact us any time.