Thinking of Selling? Do These 20 Things First
Posted by Brent Wells on Tuesday, March 29, 2022 at 8:50 AM
By Brent Wells / March 29, 2022
Comment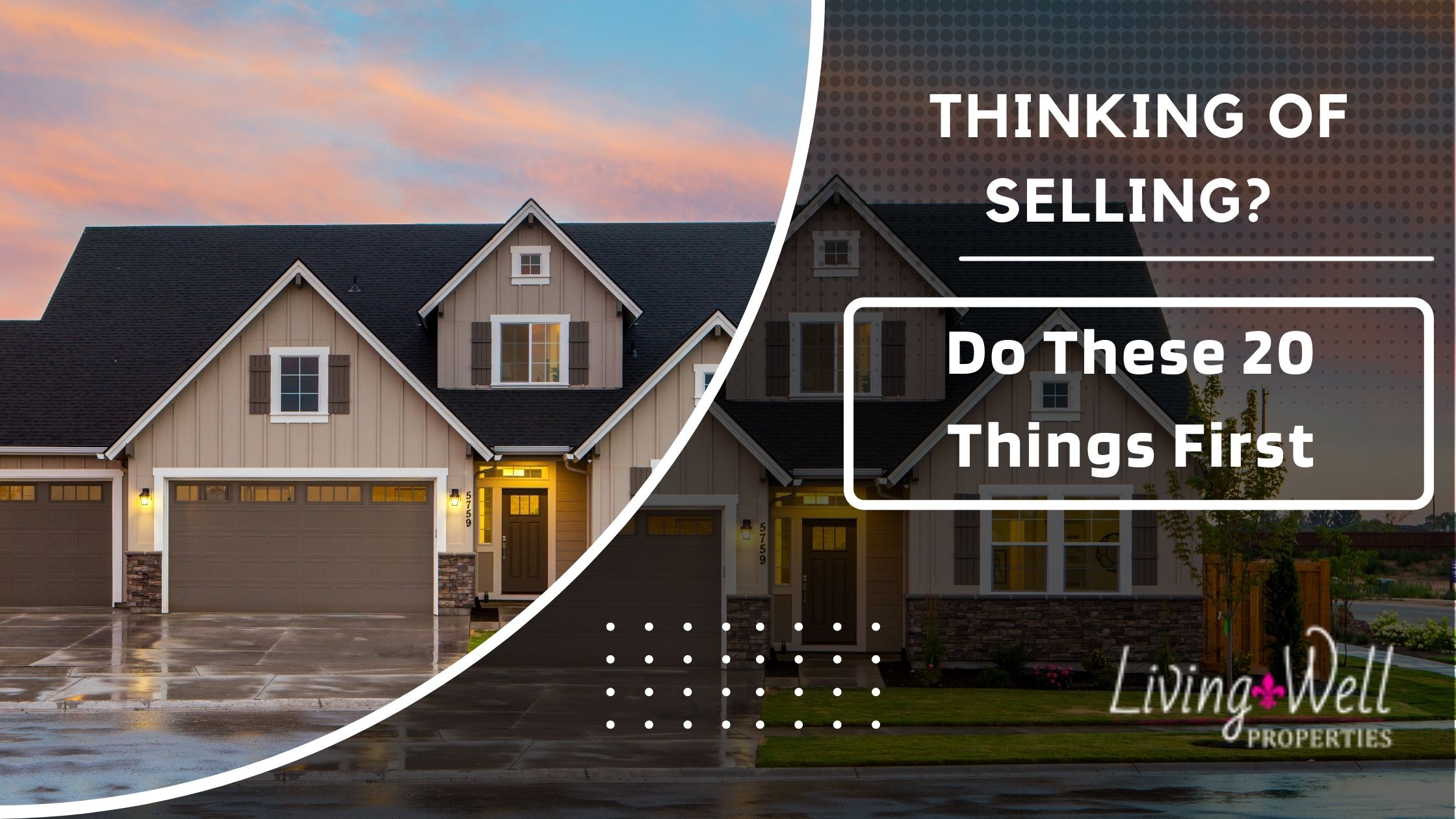 Preparing to list and sell a home is a big undertaking but it helps to have a checklist of things to go over to make sure you've dotted all of your I's and cross all your T's. I want to provide an easy checklist of things you should do before listing and advertising your property.
#1. Clean.
This is obviously something you should do but it's not just simply your weekly cleaning routine. This is the time to clean your house or condo like you've never cleaned before. Buyers will look everywhere including the tracks of sliding doors and windows, the underside of window blinds, the top of the ceiling fans, and behind corners and doors. If you don't think you can tackle the job, it's time to hire a cleaning crew to do it for you.
#2. Check the odors.
Have a trusted friend or even your real estate agent give you an honest opinion on what your house smells like. If there are pets, cigarettes, a musty or mildew smell, buyers will instantly since this and head on out.
#3. Remove all personal items and collections.
Buyers need to see the house, not your antique collection of teacups or your husband's sports memorabilia.
Related: Decluttering like a pro
#4. Remove half the items in all storage areas.
This means removing half the items out of closets, drawers, cupboards, pantries, and any other storage facilities in your house. It will make the room look larger and look like there's plenty of space.
#5. Simplify the decorations.
Buyers want to see a neutral look so if things are too feminine or much too masculine, it may turn off the right buyer. Keep things neutral, simple, and tasteful.
#6. Keep things bright and light.
A bright and airy home is one of the biggest items on most of buyer's list so make sure you open your window shades, put bright bulbs and all your lamps and overhead lighting, and replace any burnt-out bulbs.
#7. Bring the outside inside.
Plants and fresh flowers make your home look open, bright, cheery, and welcoming. This can even be simple greenery or some fresh flowers from the closest farmers market.
#8. Fix any small issues.
Has that faucet been leaking for some time? Does the doorjamb need to be replaced? What about that sticky window track? All of these items should be taken care of before listing the property.
#9. Maximize curb appeal.
Even if you own a condominium, your curb appeal could be your front door or a balcony. People like to live indoors and outdoors so don't scare them off with a yard that needs to be weeded or trimmed. Clean off the front steps, patio, walkway, or even the house itself if a dingy film has accumulated over the years.
#10. Know your competition.
Before listing your property, even if the house itself is ready to go, know what buyers are looking at around you. Get a good idea of comparable properties on the market and what they're selling for.
#11. Consider professional or amateur staging.
Simply by watching a few DIY staging shows you can get a good idea of how to stage a room. Pull furniture away from the walls and make cozy inviting areas where you can sit and read a book, have a conversation, or play a family game around the coffee table. Staged different rooms as they're meant to be laid out rather than having an office crammed in the corner of a bedroom.
#12. Keep each room as it was originally intended.
Just like I mentioned before, make sure each room is staged for its original purpose. Make every bedroom comfortable and relaxing. Set up the bathroom to be a spa-like retreat. Make the family room movie night ready. Whatever room it is, set the stage for what you want to happen in that room.
#13. Gather all the necessary paperwork.
Smart buyers love to know the total costs of keeping a home running. It might be a great idea to draw up a notebook with utility expenses, homeowner association fees, property taxes, and local shops and restaurants in the area.
#14. Remove or protect your valuables.
You will have a lot of people coming through your home and unfortunately, not everyone wants to be a homebuyer. Keep your valuables locked up or simply take them out of the house when you have a showing.
#15. Make a plan for pets and children.
Buyers typically do not like to see litter boxes or evidence of pets in the house. They may be allergic or scared of pets, so it's important to remove them during a showing. It's also important to have a plan for your kiddos as well. Where can they go during a showing or how can they clean up the house and help with the listing? A good rule of thumb is not to make any mass that cannot be cleaned up within 30 minutes or less.
#16. Don't neglect amazing photos.
If your real estate agent comes through with a cheap cell phone taking snapshots on a dark or rainy day, you may need to rethink your agent. A great agent will get awesome photos, maybe even professional photos, and showcase the home at its best light, which may mean coming back another day for better photos.
#17. Make sure you price it right from the beginning.
I can't tell you how many people want to overprice their home just in case it sells for the overinflated price. This is simply not the case. In today's market, we have to be able to price the home correctly from the beginning and maybe even under price it in order to cause a bidding war. Trust your real estate agent when they have experience in a pricing a home.
#18. Use an experienced real estate agent.
Any licensed real estate agent can list a property on the MLS but a great agent that's experienced, will have a great marketing plan in place, and awesome online presence, and get the home out to as many potential buyers and buyers agents as possible.
#19. Keep the home staged.
We all want the home to sell within a week or less, but that may not be the reality. Keeping the home staged can be difficult, especially the longer the home sits on the market. Like I mentioned before, make no mass that cannot be cleaned up in 30 minutes or less, consider having a professional cleaning on your home at least once a week while the home is listed, and talk to your agent about what you can do to help sell the home.
#20. Stay unemotional.
I know that this is difficult and you may have built many memories in this home, but when it's on the market it becomes a product. Buyers do not have emotions invested in this property yet so when they lowball an offer, rather than be insulted, consider a counter negotiation until you both get to where you want to be.
Ready to get started? Find out what your home is worth now by filling out the form below or just giving us a call! We are your Prosper, Celina and all Denton and Collin County Real Estate Experts.