The 5 Most Expensive Neighborhoods in Prosper Tx
Posted by Brent Wells on Sunday, November 7, 2021 at 8:42 AM
By Brent Wells / November 7, 2021
Comment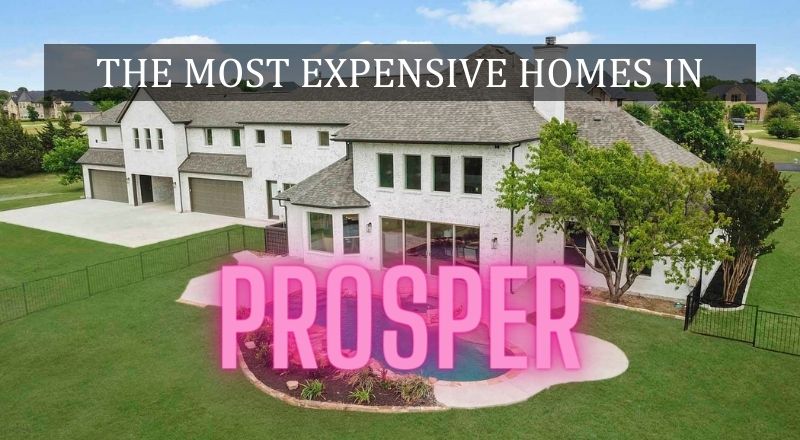 We have pulled the latest data from the CCAR MLS database and sorted, searched and tabulated the 5 most expensive neighborhoods in Prosper Tx for 2021.
( If you click the name of the neighborhood below you will be take to that neighborhood page )
The Top 5 Most Expensive Neighborhoods In Prosper
The Montclair came in with the single highest recorded sale in Prosper at $4,950,000.
The Montclair is a realatively new neighborhood located just north of the shopping center at Preston and Prosper Trail. Just to the north of the Kroger is a gated entrance that is partially hidden. This single street has some of the most expensive homes that sold in Prosper during the 2021 selling season.
We helped some clients purchase a stunning custom home in this neighborhood and by all indications the home price should skyrocket in value over the next few years.
Whispering Farms scored 3 sales at: $2,500,000, $2,396,000, and $2,060,000.
Located directly across from Gentle Creek Country Club and Golf Course, the community features a community lake, park and a pond and fountain. The neighborhood consists of approximately 1,168 people and approximately 121 households and most of these stunning homes sits on at least 1 acre of land.
Gentle Creek Estates made our list with one sale at $2,000,000. Gentle Creek is know for being adjacent to the Prosper golf course and having many homes on large acre+ lots. Custom homes and beautiful manecured yards.
Whitley Place had one sale in 2021 for $2,000,000 that helped it make our list. Whitley Place is considered to be a neighborhood with charm. From the stonework on the bridges, to the tree lined creek you will find a beautiful place to live in Whitley. Stunning homes, peaceful walking trails and a throwback to a day when solidly built, and unique homes were the norm.
Amberwood Farms is the most unique of our neighborhoods on this list and also had 1 sale for $2,000,000. This intimate, gated neighborhood can truly support horses and the riders that love them. Many homes are on lots that consist of multiple acres with barns. The homes are a world apart and truly custom. If you ever see a home in here popup for sale, act fast, since they are very rare.
Contact Your Prosper Realtor®
We hoped you enjoyed our list of The 5 Most Expensive Neighborhoods in Prosper Tx. If you are considering selling your Prosper home or need help finding one, please fill out the form below and one of our local Prosper agents will contact you.