Prosper Tx Real Estate Market - November 2023
Posted by Brent Wells on Thursday, November 16, 2023 at 6:51:53 AM
By Brent Wells / November 16, 2023
Comment
Data for Nerds The Prosper REALTOR®
Home sales are climbing, sales prices are falling and interest rates are high. We have far fewer homes on the market and it is taking 130% longer to sell the homes we do have. Welcome to the November 2023 Prosper real estate market update.
| | | | |
| --- | --- | --- | --- |
| | 2022 | 2023 | % Change |
| Closed Sales | 575 | 724 | 25.9 |
| Median Sales Price | $881,000 | $825,000 | -6.4 |
| Average Sales Price | $940,851 | $889,402 | -5.5 |
| Ratio to Original List Price | 101.5% | 95% | -6.4 |
| Days On Market | 26 | 60 | 130.8 |
| New Listings | 1028 | 924 | -10.1 |
| Under Contract | 73 | 88 | 20.6 |
| Active Listings | 139 | 178 | 28.1 |
| Months Of Inventory | 3.7 | 2.9 | -21.0 |
*** We base our predictions on data from our local MLS for the previous month year to date sales.
---
Data Analysis:
For Real Estate Nerds Only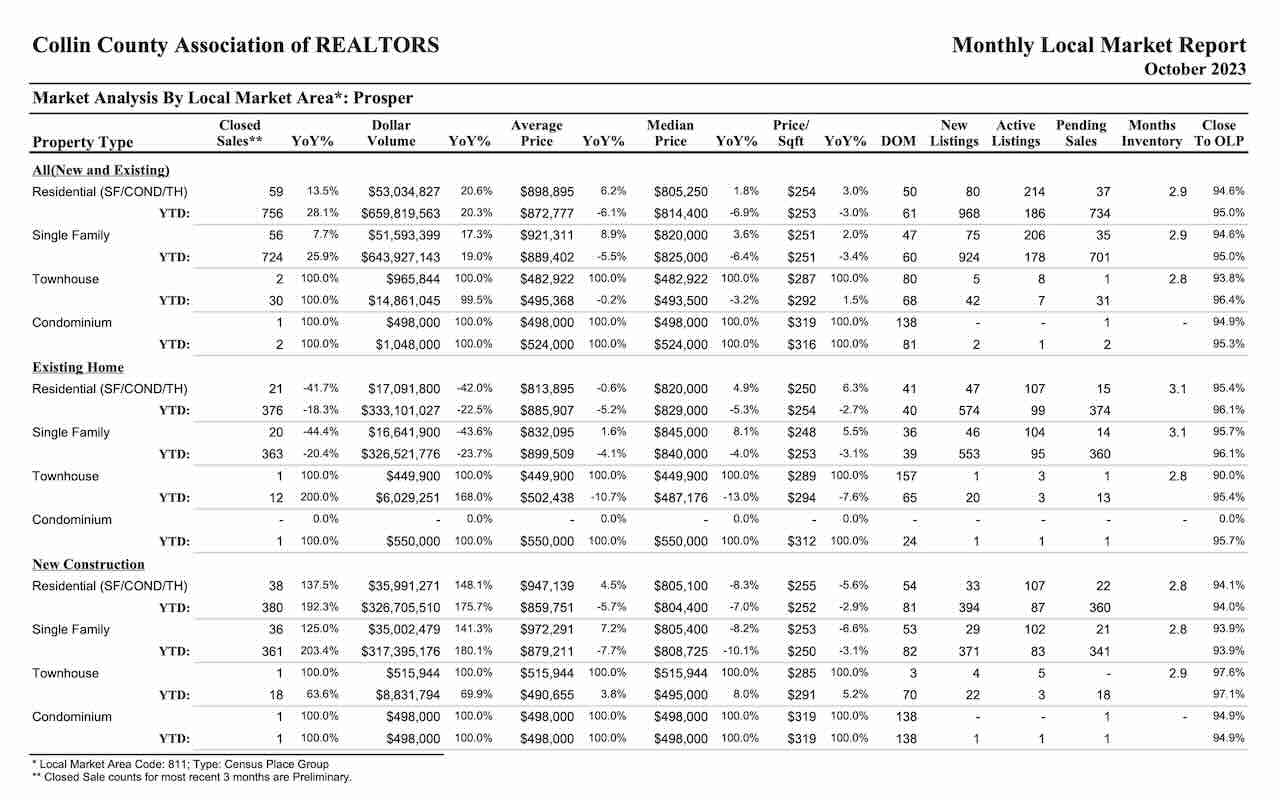 Today, we will explore some key real estate metrics that can provide valuable insights into the market. By understanding these metrics, you can make informed decisions when buying or selling a property.
Months Supply of Inventory
Let's start by examining the Months Supply of Inventory, which currently stands at 3.3. This metric represents the number of months it would take to sell all the homes on the market if no new listings were added. A lower number indicates a seller's market, where demand exceeds supply, resulting in potentially higher prices and quicker sales.
12-Month Change in Months of Inventory
Now, let's consider the 12-Month Change in Months of Inventory, which shows a decrease of 35.04%. This decline suggests that the market has become more competitive over the past year, with homes selling at a faster rate. This change indicates an increased demand for properties and may also contribute to rising prices.
Median Days Homes are On the Market
Moving on, the Median Days Homes are On the Market is 46. This metric provides an average number of days it takes for a property to sell. A lower number suggests a more active market, where homes are selling relatively quickly. For sellers, this means less time waiting for a sale, while buyers may need to act promptly to secure their desired property.
Sold Price Percentage
Next, let's discuss the List to Sold Price Percentage, which currently stands at 96.3%. This metric shows the percentage of the listed price that a property ultimately sells for. A higher percentage indicates that homes are selling close to their listing prices, which can be advantageous for sellers. Conversely, buyers may need to be prepared to negotiate carefully or make competitive offers to secure a property.
Median Sold Price
Lastly, we have the Median Sold Price, which is currently $775,000. This metric represents the middle point of all sold prices in the market. It provides an overview of the price range that buyers and sellers can expect. For sellers, a higher median sold price indicates a potentially favorable market, while buyers may need to consider their budget and negotiate accordingly.
It is important to note that these metrics provide a snapshot of the current situation and may vary over time. Therefore, it is crucial to consult with a real estate professional who can provide personalized advice based on your specific circumstances.
Remember, informed decision-making is essential in real estate, and staying up-to-date with these metrics will help you navigate the market with confidence. Happy buying and selling!