Why You Might Want To Move To Prosper Tx
Prosper Tx is a beautiful suburb just 45 minutes north of downtown Dallas Tx. Boasting some amazing schools, low crime rates and beautiful neighborhoods, Prosper is a highly desired destination.
At LivingWell Realty, our agents have provided amazing real estate services to families just like yours in Prosper. If you are buying, selling, or building in this cute Texas town we stand ready to serve your real estate needs.
We love Prosper and we think you might as well. We have put together a list of 5 reasons you might want to call Prosper Texas home.
1. Prosper's Neighborhoods
If you have done any research on moving to Texas, you are aware of all the amazing neighborhoods that Prosper has. Many of them contain stunning amenities such as the Crystal Lagoon in Windsong Ranch. There are tons of activities both organized and at will that your family will always have something fun to do. For our luxury buyers we suggest: Gentle Creek, Star Trail or perhaps Whitley Place. For an extra treat, check out this hidden gem of Coit Rd called Parkside, its one of Brent's personal favorites.
2. Prosper Tx Ideal Location
Many folks don't understand that Prosper is located in almost a perfect location for modern DFW. Situated at the intersection of the DNT and Hwy 380, Prosper residents are minutes away from DFW, Love Field, Frisco, McKinney and even Ft. Worth. Our local toll-roads provide very fast travel times to local attractions in the DFW area.
3. Prosper's Schools
You may not have school age children at home, but you still should care about school ratings. Your homes resale value is effected by your local school district ratings. If you do have school age children at home, you along with so many other parents will find yourself considering Prosper due to the schools. Prosper ISD has earned a great reputation as a solid school district commanding top dollar for homes that it serves.
4. Home Prices in Prosper Tx
Prosper has seen an insane amout of home price increases over the last 5 years. This is both good and bad for folks shopping for a home in Prosper Tx. The cost of entry into the Prosper Tx home market is steep, but so far our residents have enjoyed a huge return on their investment when they decide to sell.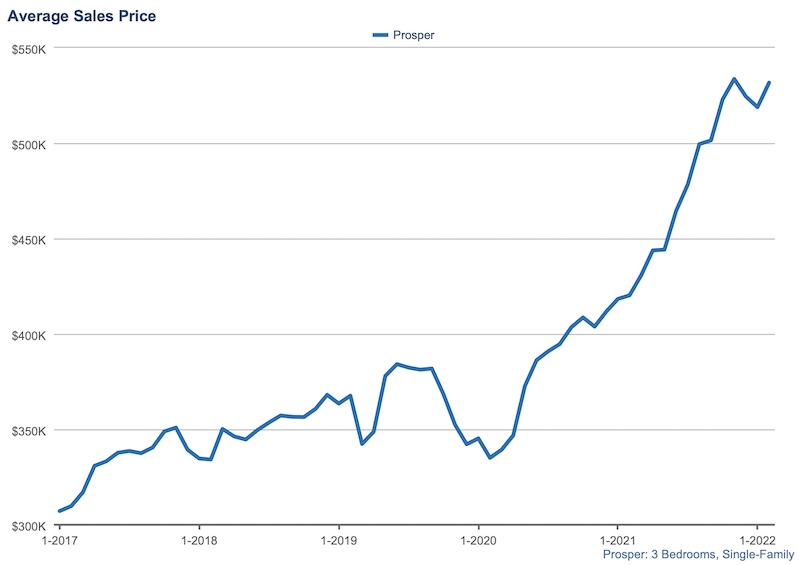 5. Prosper Is Still A Small Texas Town At Heart
Prosper has only recently had a huge surge in demand. Less than seven years ago very few residents felt a draw to the sleepy little town of Prosper. Soon after that, local residents began seeing master planned neighborhoods popping up and traffic increasing. It seemed everyone else in DFW found out about this hidden gem in north Texas.
Prosper is no longer a small town and is well on its way to 45,000 residents when built out. Their is still the small town charm in Prosper. Folks will talk to you at the grocery store checkout line. Many residents attend the Prosper high football games even if they don't have school age kids. You might just find Prosper is calling to you as well.
Ready to chat about your move?